Our Purpose
Elevate the Health and Wellness of All People
This purpose drives us to innovate for our customers and carry on in the face of challenges.
OUR MISSION
Transform the Way the World Sees the Genome
Today, the world sees the genome through the lens of technology. For some, it's a microscope or FISH probe examining chromosomes. For others, that means a sequencer looking at base pairs. We believe this technology-centric view is holding us back from the answers to critical questions around the origin, diagnosis, severity and treatment of cancer and genetic disease.
We believe the way to move forward is an inclusive one that reveals what other tools miss and unifies data across technologies into one view to maximize the detection of relevant and actionable variants.
By completely transforming the way the world sees the genome, we believe we can strive to reveal the full continuum of genomic variation, answer those critical questions, eradicate deadly and debilitating diseases, and erase terms like "diagnostic odyssey" from the healthcare lexicon.
Our Shared Values
The Foundation We Build On
Our shared values connect us to each other, our customers and our communities and serve as the platform for how we operate and innovate.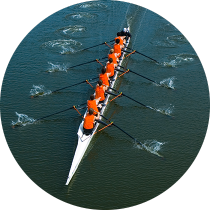 Trust
Organization-wide, we hold ourselves and our operations to the highest standards so customers can trust in our solutions, our data and our word.
Courage
Our customers' strength in the face of incredible challenges inspires us to take on the unknown, innovate solutions and find new ways forward.
Access
Disease impacts every person on earth. That's why we strive to make our solutions and the answers they help deliver accessible worldwide.
Stewardship
We are committed to being present for our customers along their journeys, providing the guidance and support they need to reach their destinations.